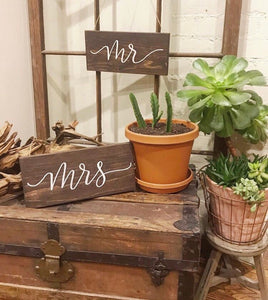 Mr and Mrs Wood Wedding Chair Signs - these sweet signs are the perfect gift for the bride-to-be, anniversary or shower gift. 

Details:
5.5 x 12"
Kona Stain
White Acrylic Paint
2 1" Hangers Attached
Adjustable twine for display

All wood is handpicked and will contain unique characteristics, no two signs are the same - which makes each sign one-of -a-kind! No attempts are made to hide the natural characteristics such as imperfections, knots, grooves, etc.

We hand sand, paint, hand letter & distress each of my signs, giving them a touch of individuality & charm to adorn your home with.Because she is his only and he is her one!